EAST MISSISSIPPI JOB FAIR
EMCC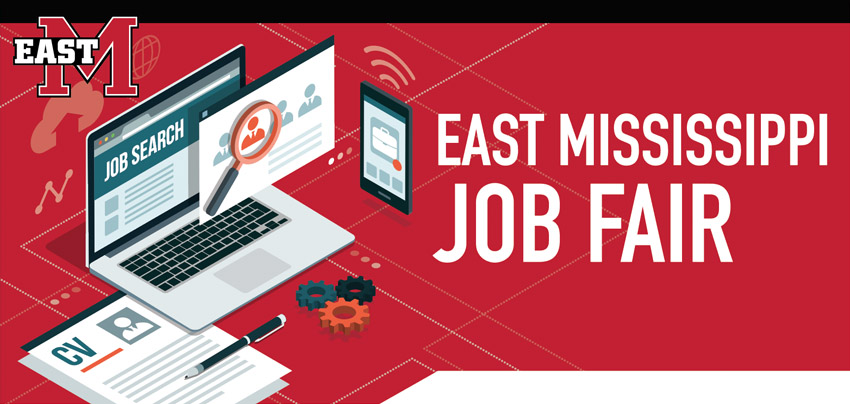 April 17, 2018
Taming the unemployment jungle
Tuesday, April 17, 2018
9 a.m. to 1 p.m.
Lyceum auditorium at EMCC's Golden Triangle campus


8731 S. Frontage Road in Mayhew,

off U.S. 45 Alternate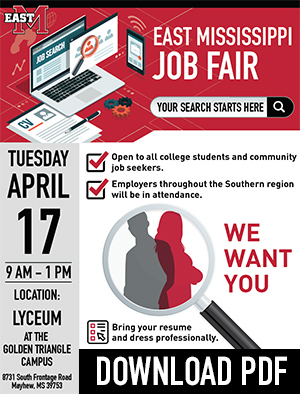 The annual East Mississippi Job Fair draws as many as 1,000 potential employers and job-seekers to the Lyceum auditorium every year. The job fair is free and open to EMCC students and graduates, as well as members of the community. It's a great opportunity to network with business and industry leaders, find out about current/future career opportunities and learn about what kinds of academic, technical and career skills employers are seeking in new hires.

For questions or more information, call:
Helpful Information:
ACR Coach
Airbus
Airmen Readiness Group
Aurora Flight Sciences
Baptist Memorial Hospital Golden Triangle
Baxter Healthcare
Columbus Police Department
Cumulus Broadcasting
Dollar General
ECCO Ride, LLC
Ellis Steel, Co. Inc.
EMCC Early Childhood Academy
EMCC Launch Pad / ABE
EMCC Lion Hills Center
Express Employment Professionals
Finch-Henry Job Corps Center
Graham Roofing, Inc.
Gregory Construction
IBEW Local 917
LSU Online, LSUS and LSUA
Love Vets Ministries
Magnolia Business Systems
Michael Humphreys
Mississippi Army National Guard
Mississippi College, online (RN-BSN)
Mississippi Department of Corrections – Division of Victim Services
Mississippi Department of Employment Security (Mayhew WIN Job Center)
Mississippi State University HR
Mississippi State University Police Department
Mississippi University for Women Office of Admissions
MMC Materials, Inc.
Noxubee General Hospital
OCH Regional Medical Center
PACCAR Engine Company
Plantation Point
Primetals Technologies
Rolling Hills Development Center
S&A Group
Saint Leo University
Sitel
Solid Waste Association of North America
Shuqualak Lumber Company, Inc.
Starkville Police Department
Taylor Group
The CPI Group
Thompson Machinery
Qualified Staffing
U.S. Air Force Recruiter
U.S. Army Recruiting, Columbus
Wise Staffing
Yokohama Tire Manufacturing Mississippi, LLC
Job Fair Survival Guide
+
Directions to EMCC:
EMCC's Golden Triangle campus is at 8731 South Frontage Road in Mayhew, about a mile off U.S. 45 Alternate.
Here's a link to directions.
If you get turned around, just call us at 662.243.1900

and we'll talk you in.