CHRIS KING TO LEAD MIGHTY LION BAND
BAND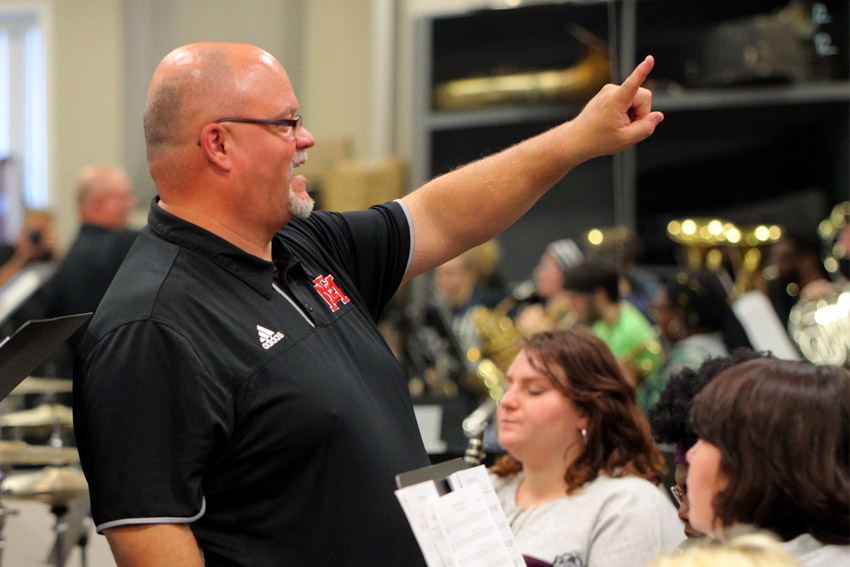 January 24, 2018
Chris King has been tapped to fill the position of director of East Mississippi Community College's Mighty Lion Band and its various subsets, which includes the marching band, the EMCC Symphonic Winds, a jazz band, a rock band, a percussion ensemble, a dance team and the color guard.
King, who is in his sixth year at EMCC, served as assistant band director before his recent promotion.
"I am really excited," King said. "Sometimes you choose the job and sometimes the job chooses you."
After graduating from Aberdeen High School, King attended Itawamba Community College. He earned a bachelor's degree in music from the University of Mississippi and a master's degree in music from Auburn University, with an emphasis in jazz.
His first job in the music field was as assistant director of bands for Vanderbilt University in Nashville.
"A lot of people thought I was at the pinnacle of my profession at Vanderbilt but I really wanted to give back to my home state of Mississippi," King said.
After two years at Vanderbilt, King accepted a job as band director at a high school in Mississippi. He served at high schools across the state for 15 years before accepting the position at EMCC.
At Vicksburg High School, he grew the band from 125 members to 260 members. At Quitman High School, the 70-member band nearly doubled in size to 130 members under King's leadership.
Membership in the Mighty Lion Band grew from 25 students to an average today of about 135 students under the guidance of King and former band director Stephen Stringer. That number fluctuates each year, with a recent high of 150 band members.
King credits much of the band's growth at EMCC to the support of administration and a generous scholarship program.
"We probably have one of the best band scholarship programs in the state, which has really helped put us out in front," King said.
King also spends a lot of time on the road developing relationships with students and band directors at high schools throughout EMCC's district, which is comprised of Lauderdale, Kemper, Noxubee, Lowndes, Oktibbeha and Clay counties.
"We have band members from every high school in our district," said King, who sees the band as an ambassador program for EMCC. He would like to increase the band's presence in the communities served by the college.
"Every year we participate in the Scooba Christmas parade. I would like us to also perform in the Meridian parade each year and rotate our participation in parades in Starkville, Columbus and West Point," King said. "Our jazz band, rock band and percussion ensemble also perform at area high schools throughout our district and I would like to do more of that as well."
King also wants the band to give back by volunteering for organizations such as Habitat for Humanity and LOVE's Kitchen in Meridian.
"That is where my heart is and I think it is important to open our students' eyes to the needs that are out there," King said.
King is married to Christy King, an accomplished flute player who holds two degrees in elementary education and a minor in music. Christy King is currently employed as the Clarke County Extension Agent for the Mississippi State University Extension Service. The couple resides in Quitman with their two sons, Jackson, 5, and Jones, who is six months old.
"I am a family man when I get home," Chris King said. "I tell my band students if this job is important enough for me to be away from my family, then like it or not you are my family too. They buy into that because they know how important my family is to me and they know how important they are to me too."