'MARRIAGE SHOULD BE A LOVE STORY'
News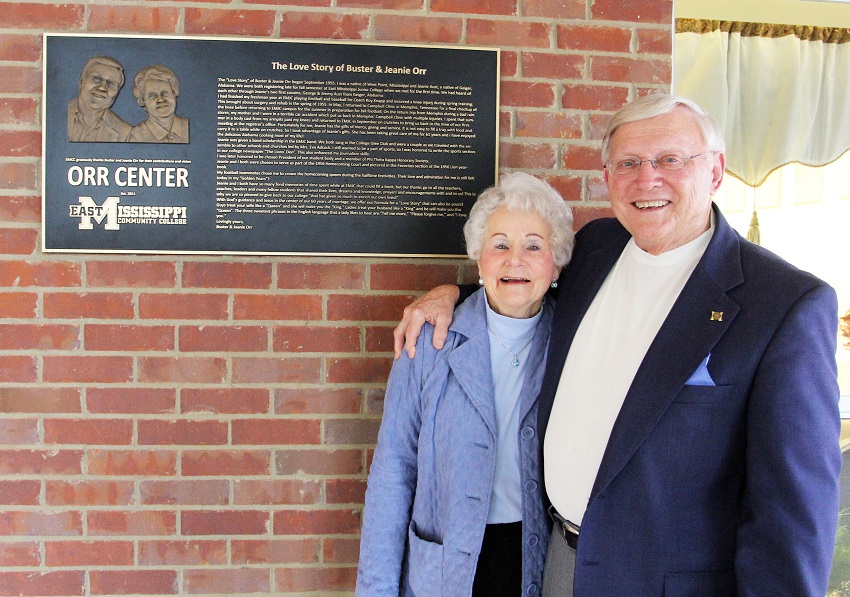 February 14, 2018
Past and present administrators at East Mississippi Community College, students and faculty gathered at the Orr Center for Christian Activity on the Scooba campus Monday for the unveiling of a bronze plaque titled "The Love Story of Buster & Jeanie Orr."
The plaque recounts the story of the Orrs September 1955 meeting at then East Mississippi Junior College and their budding romance and subsequent marriage. The couple, who drove down from their home near Memphis, Tenn., to attend the plaque's unveiling, will celebrate their 62nd wedding anniversary in June.
Standing in front of the crowd, Buster Orr enthusiastically kissed his wife and said, "I got my first sugar here 62 years ago and it is still good. … I don't know of anything that made my life better than starting college right here where I met the love of my life."
The fact that the event took place near Valentine's Day was not accidental.
"For the month of February, in our Orr Center, every Monday we have featured a love story from people who met here, went on and married and had a fine, Christian marriage," Chapel Coordinator Mary "Miss M" Smith said. "They are giving advice to our students."
The event was also intended to pay homage to the contributions of the Orrs, who are long-time supporters of the college. The center, officially titled the Buster and Jeanie Orr Center for Christian Activity, was paid for in large part by the couple.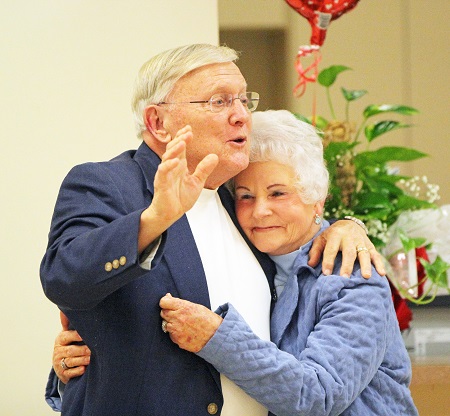 "We are sitting here today, enjoying this facility because of the efforts of these two and others who have worked to be a part of this," former EMCC President Dr. Rick Young said.
The Chapel in the Pines and Orr Center are home to the Student Christian Fellowship, Baptist Student Union, Wesley Foundation and Fellowship of Christian Athletes.
Buster Orr had just finished his freshmen year at EMJC playing football and baseball for Coach Roy Knapp when he suffered a knee injury that required surgery. A West Point native, he was on his way home with his mother from Memphis following a post-operative checkup when they were involved in a car accident.
Buster Orr spent weeks in a body cast and returned to school on crutches. While registering for class, he met Jeanie.
"I felt sorry for him," Jeanie Orr said.
Carrying a food tray while on crutches proved awkward and each day Jeanie would bring Buster's food tray to him and they would eat together in the cafeteria. Buster could no longer play sports following his accident but he and Jeanie spent time together singing in the Glee Club and traveling with the group to perform at area schools and churches. Buster wrote the sports section for the school newspaper, "The Lions' Den," was a member of Phi Theta Kappa and was elected president of the student body. Jeanie was a member of the band. Both were selected as members of the 1956 Homecoming Court.
After graduation, Buster Orr accepted a job at a feed mill in Memphis but found he couldn't get his mind off of Jeanie.
He bought a ring and hitchhiked to Geiger, Ala., where Jeanie was residing with her parents. He proposed and she accepted.
"I am as happy today as I was the day I got married," Buster Orr said. "Marriage should be a love story."
He and Jeanie built a successful business and raised two children, who are both married now with children of their own. The Orrs have spent more than 25 years working with Adult Teen Challenge in Memphis helping those struggling with alcohol and drug addictions.
The plaque outside the Orr Center is inscribed with the couple's story, which was written by Buster. The plaque reads in part, "Guys treat your wife like a 'Queen' and she will make you the 'King.' Ladies treat your husband like a 'King' and he will make you the 'Queen.' The three sweetest phrases in the English language that a lady likes to hear are: 'Tell me more;' 'Please forgive me;' and 'I love you.'"
Buster Orr told the students to be mindful of Ephesians 4:26 that counsels readers to not go to bed angry.
"I said, 'When we don't want to talk, let's just touch toes,'" Buster Orr said. "When we touch toes, what that really says is 'I'm so sorry. Please forgive me.' That's not a bad policy because it gets you by that awkward stage of finishing a conversation that wasn't working out too well. Don't take that too lightly because it works. We lasted 62 years and she still lets me kiss her."
Orr credits God with the successes in his career, his life and his marriage.
"God has blessed us so we could bless others," Buster Orr said.
The Orr Center is the focal point for student Christian activities. The 4,200-square foot facility features a dining hall, full-service kitchen area, lounge areas and office space. The center serves as a meeting space for the various Christian groups and has hosted untold wedding receptions, parties and other events.
"You have made a difference in thousands of lives here at EMCC," college President Dr. Thomas Huebner said. "For that all of us should be thankful."