---
Sunday, December 03, 2017 @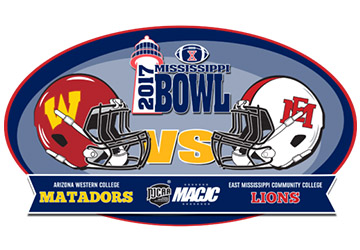 The NJCAA national championship will be determined at the Mississippi Bowl when No. 1 East Mississippi plays No. 2 Arizona Western. Kickoff is at 2 p.m.
December 3, 2017 at A.L. May Memorial Stadium, Perkinston
If you would like to ride to the fan bus to the Mississippi Bowl, please contact Lapari Morant at 662.476.5443.
The bus will depart from Gilbert Anderson Hall at 8:00 a.m. on Sunday, December 3rd. There is no charge to ride the bus.  Adult ticket prices for the game are $10 and student tickets are $7.
If you have any questions concerning the game, visit the Mississippi Bowl website at www.mississippibowl.com.