MARCH EVENTS AT EMCC INCLUDE CAMPUS TOURS, COLLEGE FAIRS
News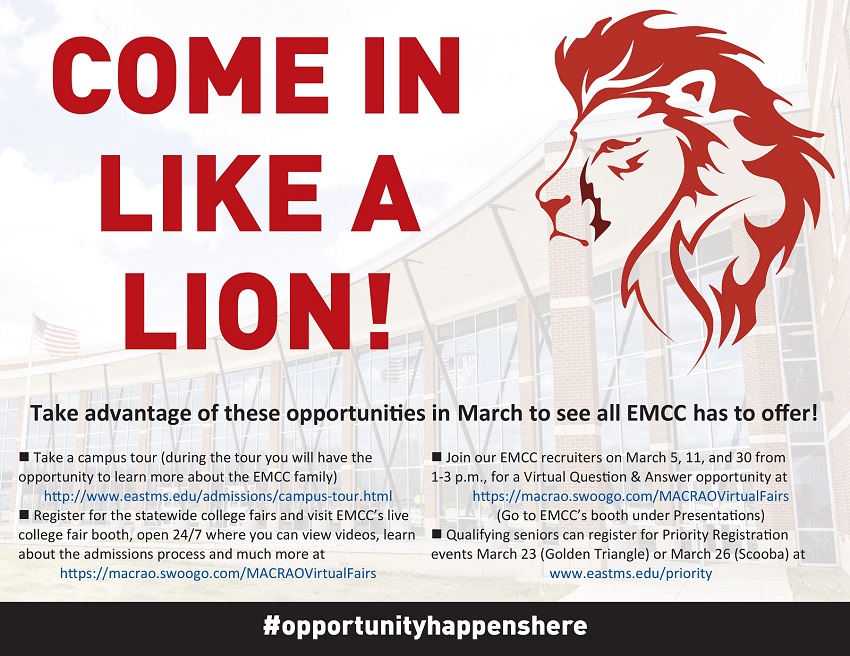 March 3, 2021
East Mississippi Community College is inviting area high school seniors to take part in the "Come in Like a Lion" recruiting drive during the month of March for campus tours, online college fairs and virtual question and answer sessions, among other things.
"We want students to come out, meet our wonderful Lion family and take advantage of the opportunities available to learn about all the great things we have to offer here at EMCC," Director of Recruiting/Recruiting Coordinator Tawana Bauer said. "However, if they are unable to come to campus, we want students to know there are several different ways they can connect with us through our virtual tours and college fairs."
Students can register online at http://www.eastms.edu/admissions/campus-tour.html for a campus tour of either the Golden Triangle or the Scooba campus. Student ambassadors conduct the tours and will provide information about the college and their experiences at EMCC. If they choose, students can also opt for a virtual tour during the registration process. Virtual tours include a Zoom session with a recruiter and links to videos and other information will be provided.
EMCC is also taking part in the Mississippi Virtual College Fair Experience where students can view past Get2College presentations on numerous topics, such as admission requirements, ACT prep and financial aid, to name a few. That information is available online at https://macrao.swoogo.com/MACRAOVirtualFairs
To access EMCC's College Fair Booth on the website, click on "Register here for college fair" and provide an email address and a password. Once you have registered, return to the website and select the "Click here to login and enter college fair" tab. Then click on EMCC's link.
There are numerous videos about the college available on EMCC's College Fair Booth and links with information about the admissions process, programs of study and much more. Click on the "Presentations" tab to register for virtual Q&A sessions March 5, 11 and 30 from 1-3 p.m.
High school seniors with ACT scores of 20 or higher can also take advantage of priority registration, where they can finalize admissions, scholarships and register for classes. Priority Registration takes place March 23 on EMCC's Golden Triangle campus and March 26 on the Scooba campus. Register here: http://bit.ly/3sJMdiR