EMCC NONCREDIT WORKFORCE CLASSES RESUME ONLINE
News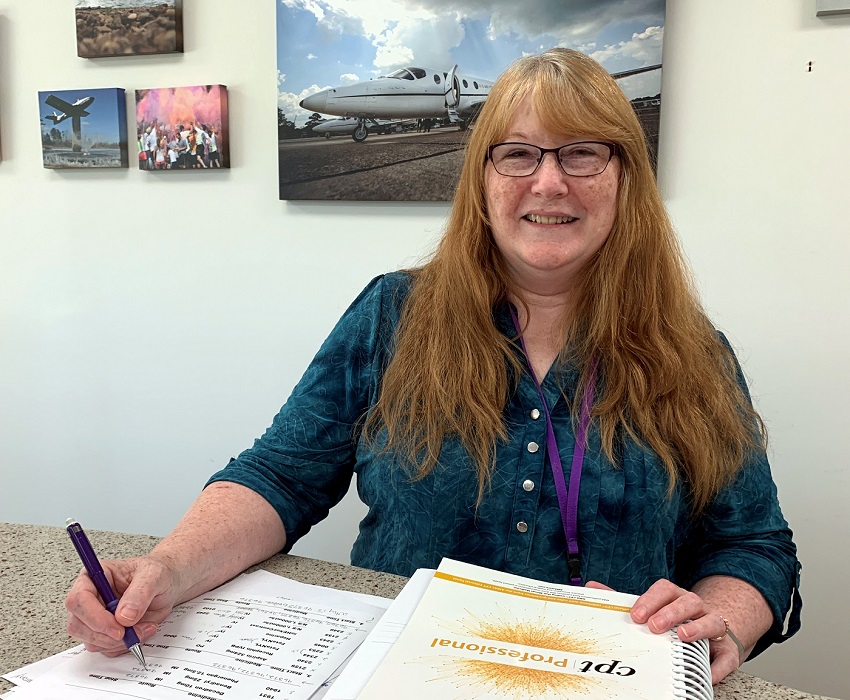 May 13, 2020
East Mississippi Community College's Workforce and Community Services division has transitioned two noncredit medical programs to online instruction and is registering students for other noncredit programs that will be offered this summer and fall.
Services are also available for those in need of finishing their high school education.
Students enrolled in the Certified Medical Coding and Pharmacy Technician courses who were receiving in-class instruction are now taking the courses online. The shift to online instruction was made in response to the novel coronavirus.
"Our instructors had never taught online courses before and it has been a learning experience for them," Workforce Community Outreach Program Director Sha'Carla Petty said. "I am impressed with how they have embraced it."
Classes are now being taught via online discussion boards, video conferencing and PowerPoint presentations, among other things.
Barbara Kimbrell, who has taught Certified Medical Coding on EMCC's Golden Triangle campus for 15 years, said it took about a week for her to get comfortable with the new teaching methods.
"It has been an adjustment for some of my students as well," Kimbrell said. "For the most part, they have gotten used to it though and have been able to keep up with their work. I have been using everything I can to help them."
In addition to Zoom conference calls, Kimbrell uses live chats, emails and phone calls to keep in touch with her students.
Columbus resident Sharon Ybarra, who is taking the Certified Medical Coding class, said Kimbrell has gone out of her way to ensure the transition to online classes has been a smooth one for her students.
While Ybarra prefers in-class instruction, she said she does like the flexibility and convenience of taking the class from home.
"It took me 35 to 40 minutes to get to school and two of the students in my class had to travel an hour-and-a-half to get to class," Ybarra said. "In that respect, it is a lot simpler to be able to just go sit in a room somewhere in your house for class and not have to take up a big portion of the evening driving out there and driving back."
Certified Medical Coding is a nine-month program offered out of EMCC's Golden Triangle campus. It takes 17 to 18 weeks for students to complete the Pharmacy Technician program, which was offered prior to the move to online instruction at three locations: the Golden Triangle campus, Columbus Air Force Base and the Emerson Family Center in Starkville.
Students in the programs were on track to earn their certificates of completion in mid-May when the novel coronavirus shut down in-class instruction at education institutions across the state.
"We wanted to get those back up and running as quickly as possible and we were able to do that with the help of Associate Dean for eLearning Chris Square," Petty said. "We had to push their completion date out to June, but we are thankful we were able get our students back in class so they can complete their classes."
Prior to the delay caused by the coronavirus, students enrolled in the Certified Nursing Assistant were a couple of weeks shy of beginning their clinicals, which will now be conducted beginning May 19 out of a simulation lab set up in the Division of Nursing and Allied Health on EMCC's Golden Triangle campus.
The Workforce division offers numerous noncredit programs of study designed to provide students industry-relevant skills that are in demand locally.
"Our noncredit Workforce classes are designed to provide students in-demand skills in as short a time as possible so they can quickly enter the job market or find a better position," said Communiversity Executive Director Dr. Courtney Taylor, who heads up EMCC's Workforce and Community Services division. "Unfortunately, many people have been laid off or lost their jobs because of the pandemic and our mission is to help them get back on their feet so they can continue to support themselves and their families."
Plans are in the works to restart many of the Workforce programs that were put on hold because of the coronavirus.
Manufacturing Skills Basic is tentatively scheduled to begin at the end of May. The 96-hour course prepares students for work as "shop floor" employees and covers topics such as Basic Computer Literacy, Safety and CPR, Blueprint Reading and Precision Measurement, along with an introduction to manufacturing improvement methods.
Registration is also taking place for the following Workforce noncredit classes that will be offered this summer and fall: Motor Controls; Heating, Ventilation and Air-Conditioning (HVAC); Welding; Manufacturing Skills Basic; Truck Driving (CDL); Leadership and Team Building Training; Pharmacy Technician; Certified Nursing Assistant; Phlebotomy; Medical Coding; and Medical Career Ladder.
Students who enroll in a noncredit program will need to take the WorkKeys test and hopes are to offer on-campus testing within the next couple of weeks.
Services are also available for those students looking to earn a high school equivalency diploma through EMCC's Adult Education Launch Pad, which is now offering classes through Essential Education, an online learning platform designed for those who did not graduate from high school.
Adult Education instructors are also using Zoom video conferencing to conduct classes and tutoring sessions. There are also paper classroom instruction packets that can be picked up for those who do not have a computer or access to the internet.
Smart Start employability skills training, which is offered through the Launch Pad, is also available online.
For more information or to enroll in a noncredit Workforce class, call 662.243.2686. For enrollment services with the Adult Education Launch Pad, call 662.243.1985.