PROGRAM GRADUATES ADVOCATE FOR COLLEGES IN WASHINGTON, D.C.
News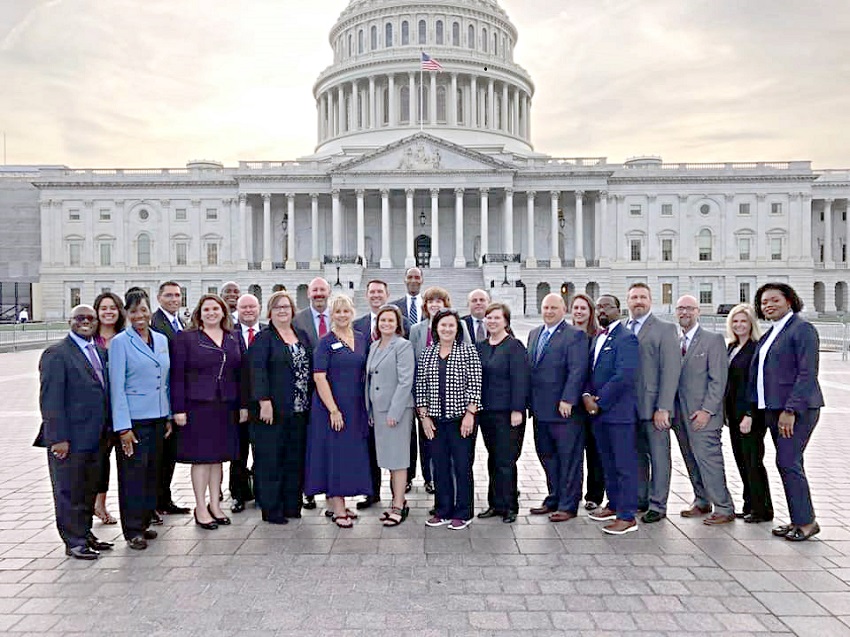 October 19, 2019
Two representatives from East Mississippi Community College were among the 14 Alabama and 13 Mississippi community college administrators who recently completed the Community College Policy Fellows Program, which culminated in a trip to Washington, D.C., to advocate on behalf of college students in the two states.
The Community College Policy Fellows Program (CPFP) is a 10-month professional development initiative jointly sponsored by the Mississippi Community College Board and the Alabama Community College System and directed by Tyson Elbert of AdvocacyBuild, LLC. The curriculum focuses on four national program pillars: Policy, leadership, networking and advocacy. Comparative elements of both state systems are highlighted throughout the program year as well.
EMCC Associate Director of Admissions Tawana Bauer and EMCC Manufacturing, Technology and Engineering Division Navigator Greta Miller were among the members of the group who graduated from the CPFP in an Oct. 2 ceremony at Jefferson State Community College in Birmingham, Ala. EMCC President Dr. Scott Alsobrooks, who is a former graduate of the Community College Policy Fellows Program, was in attendance at the ceremony.
"This is a valuable program that allows community colleges to advocate for policy initiatives that promote the common good for all of our students," Alsobrooks said. "Our collective efforts are far more effective than our individual efforts could ever be if each of our community colleges acted alone."
Both Bauer and Miller said the CPFP group became close in a short period of time because they were working toward a common goal.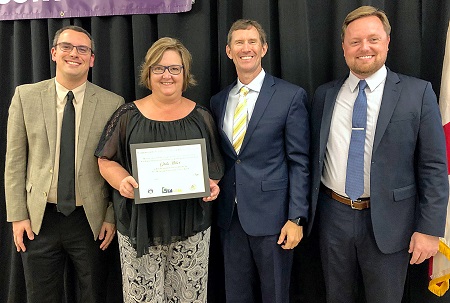 The initial meeting of the CPFP took place in January. Participants met once a month thereafter at community colleges in Alabama and Mississippi to discuss state and national education policies to determine the areas in which they would like to concentrate their efforts.
The 2019 Mississippi and Alabama CPFP cohorts focused on three policy issues/requests: (1) Protection of the Federal Pell Grant program, particularly max-Pell and the Pell surplus. They also requested students be able to use Pell for short-term certificate programs. (2) Second-chance Pell, specifically the passage of the REAL Act, which currently has bipartisan support. (3) New funding commitments ($150 million) for the Strengthening Community College Training Grants (SCCTG) to build on the success of the Department of Labor's Trade Adjustment Assistance Community College and Career Training Grants (TAACCCT) program.
While in Washington, D.C., Sept. 9-10, the Fellows met with members of Mississippi and Alabama's congressional delegations. The Mississippi delegates they spoke with included Sens. Cindy Hyde-Smith and Roger Wicker, and U.S. House members Michael Guest, Trent Kelly, Steven Palazzo and Bennie Thompson.
Prior to meeting with the delegates, they were briefed on policy issues by the Association of Community College Trustees, the American Association of Community Colleges, the American Enterprise Institute, the Center for American Progress, the Vera Institute of Justice, and The Education Trust.
The CPFP members also met with U.S. Department of Education Undersecretary Diane Jones and had photos taken with Secretary of Education Betsy DeVos.
Coincidentally, a couple of weeks after the Fellows' visit to the nation's capital, a dozen Republican governors sent a joint letter to leaders of the Senate committee tasked with reauthorizing the Higher Education Act. The National Association of Student Financial Aid Administrators reports that the governors urged committee members to expand Pell grant eligibility and pass the REAL Act, two of the policy issues supported by the CPFP group.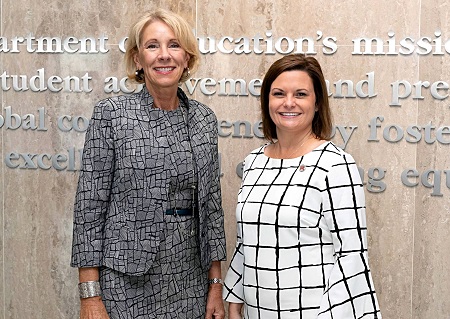 "Those are two of the issues that are really starting to gain traction," Bauer said.
The Fellows cohort also attended Capitol Day in Mississippi and in Alabama where they met with state legislators. In May, they participated in a retreat in Montgomery, Ala., which included a tour of Selma, Ala., and some of the places once frequented by the late civil rights icon Dr. Martin Luther King, Jr.
"Most of the people of that time who were eager to make a difference were the younger, from high school straight into college age," Bauer said. "Basically, we can have that kind of impact today. We, as college administrators can help these students find their voice and purpose in society."
Both Bauer and Miller said they are thankful to EMCC for allowing them to participate in the program.
"My oldest son asked me if I ever thought I would be in a job that would allow me the opportunity to lobby for something that could impact so many people," Miller said. "I told him, 'No, but I am grateful for the opportunity to do so.'"
In addition to Bauer and Miller, other 2019 Fellows include:
ALABAMA
Claude Bumpers, Interim Director of Institutional Research, Bishop State Community College; Denny Smith, Director of Testing & Assessment, John C. Calhoun Community College; Danielle Coburn, Dean of Instruction, Jefferson State Community College; Andrea Bowden-Evans, Director of Nursing Programs, Shelton State Community College; Jason Jessie, Dean of Student Affairs & Director of the Andalusia Campus, Lurleen B. Wallace Community College; Brannon Lentz, Dean of Administration, J.F. Ingram State Technical College; Chad Gorham, Director of Office of Extended Day/Distance Learning, Northeast Alabama Community College; Crystal Reed, Assistant Dean of Student Success, Northwest-Shoals Community College; Shondae Brown, Director of Public Relations, Southern Union State Community College; Joe Whitmore, Vice President for Finance & Administration, Snead State Community College; Leslie Reeder, Dean of Instructional Affairs, George C. Wallace Dothan Community College; Glenn King, Jr., Director of Workforce Development, Wallace State Selma Community College; LaShanda Hails, Correctional/Post-Correctional Education Administrator, Alabama Community College System; Taylor Hilyer, Financial Aid/VA Coordinator, Alabama Community College System
MISSISSIPPI
Marvin Moak, Vice President of the Vicksburg Campus, Hinds Community College; Kay Bates, Director of Admissions and Records, Holmes Community College; Melissa Haab, Dean of Enrollment Services, Itawamba Community College; Chad Graham, Chair of Social Science & Business, Meridian Community College; Valarie Morgan, Instructor, Mississippi Delta Community College; Cedric A. Bradley, Vice President of the Jefferson Davis Campus, Mississippi Gulf Coast Community College; Ben Shappley, Director, NEMCC at Corinth, Northeast Mississippi Community College; Jeff Horton, Vice President of Administration & Finance, Northwest Mississippi Community College; Audra Love Kimble, Associate Executive Director for Academic & Student Affairs, Mississippi Community College Board; Patrick Johnson, Coordinator of Tutorial Services, Coahoma Community College; James Collum, Career Education Department Chair & Instructor of Electronics, Pearl River Community College