Gina Cotton, Marcus Wood assume new posts
Alumni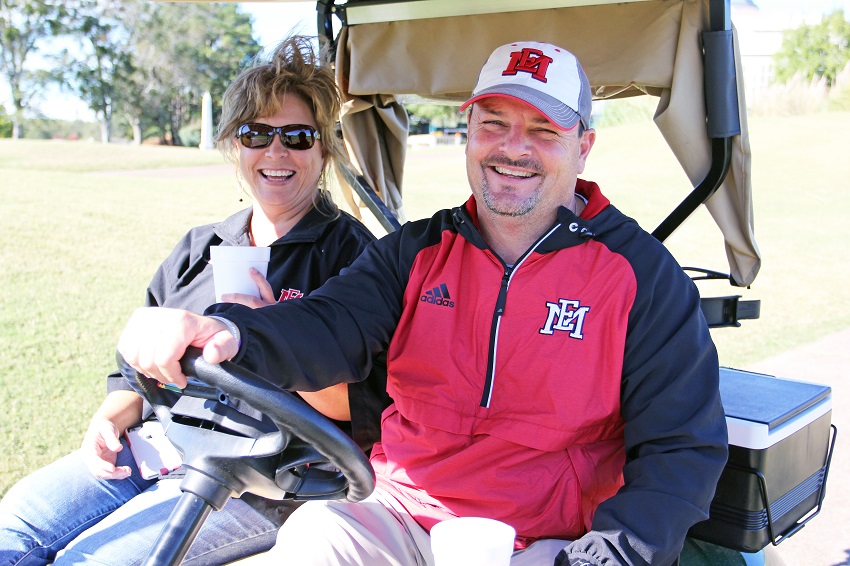 January 31, 2018
Two familiar faces at East Mississippi Community College have been tapped to double-team the college's alumni relations efforts.
Gina Cotton will serve as director of Alumni Affairs and Foundation Operations while Marcus Wood has been named the executive director of College Advancement.
Cotton, who has worked at EMCC for nine years, was formerly the coordinator of Alumni Relations for Nick Clark, the college's vice president for Institutional Advancement until he retired July 30. In addition to other responsibilities, Cotton and Wood now share duties once handled by Clark.
The two will work closely with EMCC Assistant Vice President of Institutional Advancement Leia Hill.
Cotton will maintain the college's alumni database and coordinate alumni events, such as the EMCC-Old Waverly Golf Classic, Sporting Clays Challenge Cup and the Billy Joe Cross Wild Game Dinner and Auction.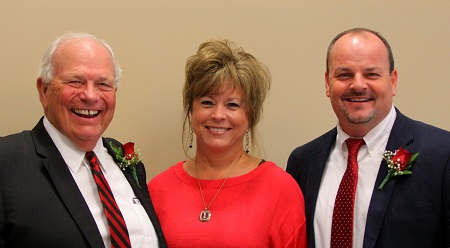 Wood, who is in his 10th year at EMCC, was an assistant football coach for the Lions until last January when he assumed an administrative post. Wood will lead the college's fundraising efforts.
"I have learned a lot just watching Gina," said Woods, a former EMCC standout football player who was inducted into EMCC's Sports Hall of Fame during the October Homecoming activities. "There was a lot of work that went into the Sports Hall of Fame event, for example. Gina had to contact everyone, line up their tickets, make sure they all got here and see that everything down to the smallest detail, such as the flower arrangements, was ready. Gina does a lot that people will never know about."
Both Cotton and Wood said one of their main priorities will be to establish closer relationships with alumni.
"We really want to encourage our alumni to reach out to us and let us know what is going on in their lives," Cotton said. "We are especially interested in knowing what our younger alumni are doing since we typically don't hear from them as often. People want to know what their former classmates are up to and we are looking at ways of sharing that information in a suitable format.
"We are asking our alumni to reach out to me by email, especially if they have not done so in the past, so we can open a line of communication."
Wood said fundraising is critical for EMCC's mission to continue to grow and add new facilities and educational opportunities for students.
"We hear from alumni all the time who say they are amazed at the growth at EMCC," Wood said. "The new facilities and added programs we have today would not have been possible without the support of our alumni and friends of the college. This college is their legacy and we encourage or emerging alumni to become part of our future legacy as we continue to move forward."
To facilitate donating, the college now accepts online donations at www.eastms.edu. Look for the "Donate Now" button on the website, which has been revamped and updated.
The college's needs are great, Wood said. Long-range plans call for the construction of an athletic operations center at the Scooba campus to consolidate coaching staff and the addition of a women's soccer field for the Golden Triangle campus. Future upgrades are anticipated for EMCC's baseball, softball, basketball and rodeo facilities and hopes are to install a new electronic scoreboard at Sullivan-Windham Field.
"Many of our alumni have been blessed in that their time at EMCC served as a springboard for them to achieve great things," Wood said. "We need their help to ensure that future Lions are provided the same opportunities."
Cotton graduated from EMCC with honors in 1984 at what was then the Golden Triangle Vocational-Technical Center. She worked for the Forest Products Lab at Mississippi State University and later at the MSU Vet School. She worked at Immanuel Center for Christian Education in Columbus for 10 years. Cotton took some time off to raise her children and later accepted a job at EMCC working for then Dean of Instruction Dr. Teresa Houston.
Cotton and her husband, Chuck Cotton, have been married for 33 years. Chuck Cotton is retired from 4-County Electric and owns his own handyman business. The couple have served at Calvary Baptist Church in Macon for 26 years, where Chuck Cotton is worship pastor and Gina Cotton is the pianist. The couple are also active in community service projects and a nursing home ministry.
They have two daughters, both of whom attended EMCC. Ashley Cotton Cutrer is married to Lance Cutrer and the couple have a son, Luke Cotton Cutrer. Their other daughter, Laura Cotton Chancellor, is married to Dale Chancellor, who is a graduate of EMCC. Both girls are dental hygienists.
A former all-state safety for the EMCC Lions, Wood graduated in 1996 from Mississippi State University with an undergraduate degree in elementary education. He earned a master's degree from MSU in 1998 in sports administration. He coached at Mississippi high schools for 10 years, with stints at Meridian High School, Philadelphia High School, Columbia High School and Gulfport High School.
He later served as a volunteer coach at Holmes Community College and as a graduate assistant coach at MSU before accepting the offensive coordinator job at EMCC in 2007.
Wood resides in Scooba with his three sons: Marc, Parker and Will. He can be reached by phone at 662-476-5025 or by email at mwood@eastms.edu.
Gina Cotton, who can be reached at 662-476-5063 or by email at gcotton@eastms.edu, said she is excited about her new position.
"We really appreciate the continued support of our alumni and I am looking forward to the great things I know we will accomplish in the future," Gina Cotton said.